---
- muzman - 05-29-2014



It looks like Godzilla as played by Divine in full regalia.




---
- chris dogg - 05-29-2014





I wish they would come up with a nickname for him like how they called Mecha G "Kiryu" in the Millenium series. That name is so...,"Its a Godzilla, frome space. SPACE GODZILLA!"




---
- cylon baby - 05-29-2014



Honestly that whole movie is a travesty, except for that monster design (it looks better in action).




---
- chris dogg - 05-30-2014



What? No way! With the cheesy sets, cheesy villain, cheesy plots, cheesy robutt and a cheesy Super Kawaii Godzilla Junior it was an awesome throwback to the Showa era.





But seriously, it is quite jarring going from Tai Mecha Gojira to Tai Supēsu Gojira to Tai Destoroyah. Like, how did newly hatched Junior go from a baby Godzillasaurus to an upright chibi Minya only to then go to a convincingly adolescent mini-me version of Godzilla?





Maybe TOHO was considering going full kiddy hero protector of the Earth again then thought better of it and then just decided to kill it in the very next one going back to a super serious tone.





"Oh no! That cute shit's got to go! Go Go back to serious tone for the final Godzilla! Wooh ooh ooh!"




---
- turingmachine75 - 05-30-2014

AI still loved it but,

One thing I found disappointing upon reflection was the lack of any clear . . .

meaning

.?.? A few folks above posted an interest in seeing the issue of climate change being imbedded in the film, in much the same way the original evoked nuclear annihilation, both being the products of 'the arrogance of man thinking . . . yada, yada, yada'. Yes, the mere presence of nuclear weapons, nuclear power plants, and the ginormous nuclear powered monsters who love them unavoidably says something along the lines of 'the arrogance of man . . . ', but that's not at all what the movie was

about

.
It's the same movie if the bugs were after our sugar; they would nest in a sugar mill, we'd have to move the stuff around, and after our plan to caramelize them together in the Bay Area failed, Godzilla would still step in and 'restore balance'. It wouldn't have said anything is

wrong

with sugar, it wouldn't have been calling into question use sugar, its dangers. There was no cautionary tale there.
Godzilla's big(ish) entrance is literally preceded by a force of nature, a tsunami . . . even the male bug had a natural disaster-ish earthquakey entrance, but those events weren't as indicting as the similar events in the original were. In that movie, mankind's technological tendency towards using increasingly inhuman instruments of war on each other is what led to Godzilla, while in this one it is an innocent accidental buzz by in the deep sea by a sub. Ok, nuclear sub.

But, it is hard to see how the movie could have had any real teeth and still have those great moments of restraint, fatigue, and crowd pleasing quasi-proxy-mere-as-if heroism that worked so well. *sigh* Oh well, I wanted grimdark.

Have I mentioned that I'd like to see the Seatopians in the sequel?

After establishing an ancient hidden ecosystem, you push it a step further and introduce an ancient hidden civilization. Not only are the ruins of a vast undersea kingdom discovered, but we also learn this extinct (or not) society figured out, for any number of reasons, how to trap or entomb a kaiju.


---
- cccc - 05-30-2014



Since Muto love nukes naturally they will go to the places with the most. Which is a contradiction to what we currently believe the country with the most or safest.




---
- darkmite8 - 05-31-2014

AI think the meaning isnt about the our meddling and self-destructive nature (like Gojira's theme), but of our hubris and "secret" fragile nature. Hence the EMP threat and "back to the stone age" warnings. Our civilization would crumble under such a disaster.

History shows again and again
How nature points up the folly of men.

In this case, our folly is thinking we're safe and everlasting and the top of the world. All it will take is just the right solar flare or space rock and POOF there goes humanity. This movie just chooses to use kaiju to represent the threat in a youtube/internet world where we see horrible (and unstoppable) events happen all over the globe. In the cosmic scheme of things, we're fairly insignificant and not much more than a blip on the cosmic timeline.

Despite a tsunami in the Pacific or a hurricane in Louisiana or earthquake in Haiti, (the unaffected rest of) society goes back to normal shortly (relatively) after the events settle. What do you do when the events dont dissipate? What if that typhoon lingered in the shadows like a post-9/11 terrorist threat? What if that super-volcano were mobile?


---
- chaz - 06-01-2014


---
- stelios - 06-02-2014



The size difference is actually quite bigger I believe.




---
- chaz - 06-03-2014



I posted it because it was mocking the 98 Godzilla.




---
- chris dogg - 06-03-2014


---
- cccc - 06-03-2014



TOHO released a new Japanese trailer. Goosebumps.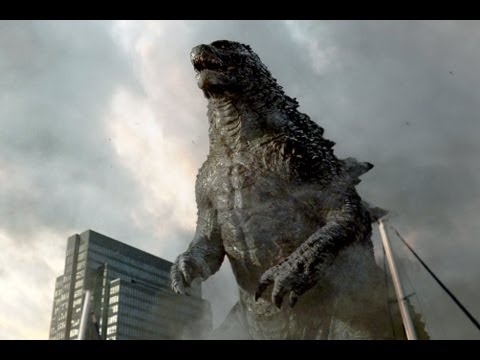 ---
- freeman - 06-03-2014



Great movie, amirite Nooj?




---
- Nooj - 06-03-2014



It suuuuuure is, bro.




---
- MichaelM - 06-03-2014



No offense, cccc, but that's a fairly shitty trailer. No sense of flow, the music's overbearing (and often dead wrong for the scenes/shots). Only the very last shot works.




---
- freeman - 06-03-2014




I'm framing this, forever and ever and ever.




---
- bradito - 06-03-2014

AMichael's basically described every trailer.


---
- cccc - 06-03-2014




No offense taken bruh.





I was just excited about the TOHO Productions at the beginning.




---
- hypnotoad - 06-03-2014



Saw it over the weekend and greatly enjoyed it.





Though I'm bothered that they even considered moving the nukes by train when the chinook helicopter seemed a far safer and faster option. Does the chinook helicopter have some sort of deal like the Eagles from LOTR where they don't take sides?




---
- cccc - 06-03-2014




EMP signals. Wouldn't want that nuke falling out of the sky now would you?




---
- robert hill - 06-03-2014




they drop them all the time, in real life.




---
- Nooj - 06-04-2014

Astupid eagles...


---
- chaz - 06-05-2014


I saw this in my Facebook news feed and I had to share it.
---
- kyle reese - 06-06-2014



Caught a 2nd viewing, since I missed the 1:30 Edge Of Tomorrow show
.
It's still a good movie, but I'm not convinced Gareth Edwards has listened to or participated in many conversations with other human beings. The dialogue scenes come off like they were directed by a deaf sign language interpreter.
The funniest moment this time (besides Unconcerned FEMA guy, who we already know and love) was after the first MUTO scene. We get what will surely end up as the year's longest, clunkiest exposition scene. There's little or no musical score, so unless you are hanging on every work of the convoluted explanations of MUTO and Godzilla, it's like cinematic Xanax. Then suddenly, the score goes BAM! and hits you with a super heroic theme as Ford goes out onto the flight deck to take the chopper to Hawaii. Except...our hero isn't going to do anything heroic. He's just going to get on a plane to San Francisco, where he will presumably sit on the couch for a while and catch up on all the episodes of The Bachelor he missed on DVR. So, why the heroic bombastic Call To Adventure music? They must have decided in the editing that the audience must be close to dozing off at this point, so they need a loud noise to wake them back up.
---
- cccc - 06-06-2014



I think it flowed beautifully.




---
- Nooj - 06-06-2014

AThe flow would be fine if not for such DULL DULLNESS.


---
- muzman - 06-07-2014



I couldn't see the dullness for all the EXCITING EXITEMENT!




---
- cccc - 06-07-2014



Boom!




---
- Nooj - 06-07-2014



zzzzzzzzzzzzzzzzzzz




---
- chaz - 06-07-2014



I've seen Godzilla three times now and I still think its awesome. I stand by previous posts where the human characters aren't boring. They act like normal people would if these crazy events actually happened. Their actions are based on dealing with the monsters. I like that, unlike in Pacific Rim, the movie isn't slowed down by characters back stories. Yes I know the fact that I have seen this movie three times means I need a life.




---
- cccc - 06-07-2014



Same here. Seen it three times and really looking forward to the BD and it's (hopefully) extended cut. Can't wait to show my Son and Daughter who are dying to see it.






I have to get my ass of the couch to see EOT this weekend tho.




---
- Nooj - 06-07-2014



oh god so dull





But I'm glad you guys are loving the movie! No joke.




---
- chaz - 06-07-2014



As a life long Godzilla fan I'm still happy, and surprised, that money was put into a Godzilla movie that took the material seriously.




---
- chris dogg - 06-07-2014



Just picked up the Art of Destruction book. Its really good.




---
- cccc - 06-07-2014

AMy kids are getting it for me for fathers days.


---