---
- Richard Dickson - 09-07-2017





Spielberg really dug into 9/11 that year between this and Munich. How we respond to the immediate threat and how we respond afterward. And what we're willing to become in each.




---
- fraid uh noman - 09-07-2017

AI'm always at least somewhat disappointed when we don't get the Jaws/Indy/Jurassic Spielberg. I love him most in sci-fi action escapism mode. But we'd have been deprived of so many important and mature works (especially Munich and Schindler's List) if he based his career purely on whimsy..


---
- Richard Dickson - 09-07-2017





See, I think that's the subtext of Hook. It's Spielberg wrestling with becoming a mature filmmaker but not wanting to give up those flights of whimsy. And it's kind of telling that he followed Hook with textbook examples of both in the very same year (Jurassic Park and Schindler's List).




---
- MichaelM - 09-07-2017



TLW is really flawed but I still dig it. Very much a parts-greater-than-the-sum kinda flick for me. Poor Richard Schiff.





I've only seen SCHINDLER'S LIST once. It's a great film and, IMNSHO, belongs in the Beard's top five, but damned if I can make myself watch it again. It's up there with UNITED 93 in the category of amazing films I can only watch once, most likely.




---
- headless fett - 09-07-2017



That's right gentlemen. Keep lowering the bar so when this movie does come out you'll actually believe it to be good.




---
- Reasor - 09-07-2017

A[quote name="Bartleby_Scriven" url="/community/t/155331/indiana-jones-and-youre-actually-fucking-serious-pre-release-discussion/1600#post_4358546"]AI is like the most maudlin point-and-click adventure game of all time.[/quote]

That's why it's great.


---
- engineer - 09-07-2017



There are only three kinds of Spielberg movies...





1. The ones that are great classics.




2. The ones that are flawed but I still really like.




3. INDIANA JONES AND THE KINGDOM OF THE CRYSTAL SKULL




---
- Belloq87 - 09-07-2017




This sums up my feelings, as well!




---
- chaz - 09-08-2017



I've always liked TLW. I can't hate a movie that has a T Rex on the loose in San Diego.




---
- bartleby_scriven - 09-08-2017




ew




---
- noirheaven - 09-08-2017



A few random thoughts based on the discussion:





A.I. was indeed the best film of 2001.





War of the Worlds is really Spielberg's second-most Kubrickian film after A.I. It's also Spielberg's version of Hitchcock's The Birds. It's a ruthless, spellbinding piece of filmmaking.





Got to see Close Encounters of the Third Kind theatrically for the first time about 12 hours ago on a huge screen and it was marvelous. So much more powerful that way as one would hope/expect.





Hook is all kinds of terribly flawed (way too long and bloated, lousy set, mostly merely okayish-at-best performances outside of Dustin Hoffman who's a lot of fun) but it's always felt like the film Spielberg had to make to get to works later down the road like A.I. and Catch Me If You Can, both among Spielberg's finest and most personal (which is ironic since neither one was a "passion project" of his own for years and years, but his authorial stamp/fingerprints are all over both of them to a tremendous degree). Completely agree with Richard Dickson on Hook in this regard.





1941 is a bit of a chore but better than its reputation suggests. It's Spielberg at the height of his hubris and its myriad flaws notwithstanding, I wouldn't touch it because it gave us a look at that.





The Lost World and Crystal Skull are probably my least favorite Spielberg films. He's on autopilot with both, a little too uncaring with the former, far too conservative and disinterested with the latter. They both have at least one very good setpiece, and I like the cinematography of Lost World, and even appreciate its mean streak, but they're both very minor entries in Spielberg's canon.





Minority Report in spite of being referred to in popular culture and conversations all the time ("Wait, how'd Billy know his friend would hit a home run? Is he a precog or something?") has become so very underrated.





Seriously, most of Spielberg's twenty-first century output is going to be closely reexamined and, for the most part, more commonly heralded in the years and decades to come.




---
- bartleby_scriven - 09-08-2017



You fucking fucks, The Royal Tenenbaums was the best movie of 2001.





That, or Wet Hot American Summer.




---
- MichaelM - 09-08-2017






WRONG. The correct answer would be Moulin Rouge, The Fellowship of the Ring, or Black Hawk Down.





Thanks for playing, though.




---
- bartleby_scriven - 09-08-2017



Anything but AI, the kind of glossy misery porn that never recovers from its poignant first act.




---
- MichaelM - 09-08-2017



Another hole in my Beard viewing that I've never been in a rush to fill.




---
- bartleby_scriven - 09-08-2017



wut




---
- bartleby_scriven - 09-08-2017



I may tease it, but it's still required viewing.




---
- MichaelM - 09-08-2017



I feel like I've read so much about it here I've practically seen it.




---
- bartleby_scriven - 09-08-2017



Goddamn it





NO





That's like saying you read the wiki summary.





You'll pay.




---
- MichaelM - 09-08-2017



If it helps, I'm way more amenable to watching AI than Clockwork Orange.




---
- bartleby_scriven - 09-08-2017



Fuuuuuuuuuuuuuuuuuuuuuuuuuuuuuuuuuuuuuuuuuuuuuuuuuuuuuccccccccccccccccccccccccccccckkkkkkkkkkkkkkkkkkkkkkkkkkkk





When we go see Thor, you're going to get a stern reprimand.




---
- boone daniels - 09-08-2017



2001 was a weird year for movies.





Also, the correct answer is HEDWIG AND THE ANGRY INCH.





(it's not)




---
- noirheaven - 09-08-2017



Random aside but we've talked on and off about what kind of character Mark Rylance would/could be... If Spielberg films a remake of West Side Story--and I'm not saying that he should, by the way--then Mark Rylance pretty much 100% has to play the role of "Doc," played by Ned Glass in the original film, no?





All right, sorry, but that just hit me for some reason.




---
- analog olmos - 09-08-2017

A[quote name="Amos Orange" url="/community/t/155331/indiana-jones-and-youre-actually-fucking-serious-pre-release-discussion/1560#post_4358396"]Count me among the 90's kids absolutely blinded by nostalgia for HOOK. I had no idea people thought it was a bad movie until I started hanging out with you assholes.

I think back on the movie and I remember the huge colorful sets, Dustin Hoffman 

disappearing

 into his role, and Julia Roberts making my 8-year-old self feel a certain kind of way.
[/quote]

See, in MY day we had the original, animated Tinkerbell to make us feel a certain kind of way.


---
- Stale Elvis - 09-08-2017



I think it was pretty obvious for me 2 minutes into the very first viewing of KotCS as to what type of film it would be, when we (don't) see the bloodless gunning down of the soldiers at the gate.





When was it Spielberg lost his taste for onscreen death and horror and maybe an overcompensation for his good guys never to be seen as bad guys? I understand age brings a new perspective on things, but surely he has to recognise and understand some of the things that make these films work. The monkey that gets thrown from the jeep but lands on a branch was just ridiculous - he couldn't even let a CGI monkey get thrown off a cliff.





It's funny that as the modern world has opened up in the last 20 or so years, the moral grey ground where it was OK to be a bit of a bastard sometimes in real life, politics and film has been replaced by simple right or wrong. And so Indy was never allowed to be morally grey, but just always on the side of right. Hence no real killing. The guy in the graveyard with the blowpipe was done for laughs, but there'd certainly be no gun v sword nowadays.





I really hope Spielberg puts his teeth back in for this.




---
- Stale Elvis - 09-08-2017




Whereas we had the Cadbury's Caramel Bunny.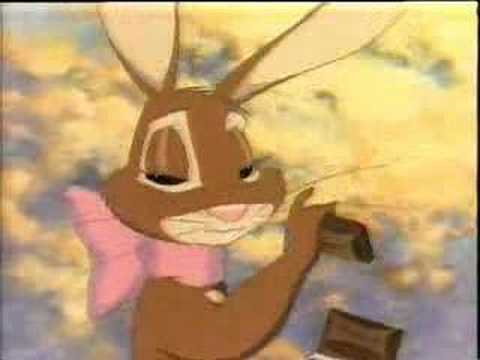 ---
- bartleby_scriven - 09-08-2017



War of the Worlds and Munich were some of his most brutal depictions of violence, certainly in the 21st century, and those immediately preceded Crystal Skull. There's a chance those two movies purged all the post-9/11 anger out of him, because immediately after Crystal Skull was Tintin and his movies haven't really been violent at all since.




---
- arjen rudd - 09-08-2017

AWar of the Worlds has some serious teeth, indeed. But then it's got that infamous ending where the son shows up alive, which makes the whole thing feel like an enormous cop out. I get the reasoning, but it makes a film that stunningly pessimistic and grim for the Berg feeling seriously neutered in is final three minutes. And then you walk out, thinking about how lame the ending is.

Despite his reputation with endings, that's the only one that real wrankles me at this point.


---
- bartleby_scriven - 09-08-2017



I don't know, perhaps the execution is off (the son just shows up out of nowhere). But after so much despair, him living is like digging through the rubble of the North Tower and actually finding survivors.





A little glimmer of hope was nice, and thematically it ties in with Ray's arc. The whole movie he's just running away and trying to keep his kids safe. But once he starts fighting back and worrying about something bigger than his own world, he gets rewarded with the return of his son.





A little inelegant, but works for me.





Munich, however, is just pure, unadulterated horror. The scene where they kill the Dutch woman contract killer, ugh, taints my soul.




---
- boone daniels - 09-08-2017



What should I watch first:





WAR OF THE WORLDS




or




WAR HORSE




---
- Dent6084 - 09-08-2017

ABoth at the same time. WAR HORSE OF THE WORLDS.


---
- fatherdude - 09-08-2017



I think that WAR OF THE WORLDS has bigger issues than its happy ending. It's too episodic and there are scenes that straight-up don't work (the Tim Robbins interlude). It basically feels like a series of excellent Spielberg set pieces (and some of them are all-timers) loosely strung together. Koepp doesn't offer the film much in the way of structure, and that exposition-dump from the reporter lady is a groaner.





There's a lot to love. Spielberg really does create incredible dread for a Tom Cruise blockbuster, and the 9/11 allegory stuff is very effective. But it doesn't really add up to a movie for me. And yes, it ultimately pulls punches. It feels like Spielberg trying to do what Darabont would go on to do with THE MIST, but Spielberg is too much of a populist film maker at heart to really embrace the nihilism, and at the end of the day he's making an expensive summer movie that needed a return on its investment, so he makes choices that give the movie an identity crisis.





I think his need to cast recognizable faces like Cruise and Fanning is part of the issue. Cruise does good work but it's tough to see him as an everyman, and Fanning doesn't feel particularly authentic either. I would love to see the low-budget version with a no-name cast. The end result doesn't really reconcile being a bleak B-movie while at the same time being a $150 million Cruise/Spielberg vehicle in a satisfying way.




---
- Stale Elvis - 09-08-2017

ADon't watch War Horse.


---
- bartleby_scriven - 09-08-2017



Having only seen War of the Worlds, I can say...





Watch War of the Worlds!





I actually do intend to watch every single Spielberg at some point. Sugarland Express is a recent one, only saw it a few months ago. 1941 is at least a curiosity. Amistad intrigues me because as far as I can tell Spielberg didn't work with any of those actors again, and he loves working with the same actors again. War Horse gets raves, and my kid will probably like the big fucking giant.




---
- fatherdude - 09-08-2017



Quote:






Both Pete Postlethwaite and Arliss Howard were in THE LOST WORLD, although I guess that was shot right before. It also stars Morgan Freeman, who technically worked with Spielberg again for the WAR OF THE WORLDS narration.





The movie also features an absurdly young Chiwetel Ejiofor. I suppose we can credit the Beard for discovering him as well as Christian Bale?




---