05-18-2020, 11:48 AM (This post was last modified: 05-24-2020, 06:29 PM by Judas Booth.)
Cop #1: Tequila (from HARD BOILED)
Cop #2: Nick Conklin (from BLACK RAIN)
Main Villain: Hans Gruber (from DIE HARD)
Secondary Villain: Thomas Griffin/Juntao (from RUSH HOUR)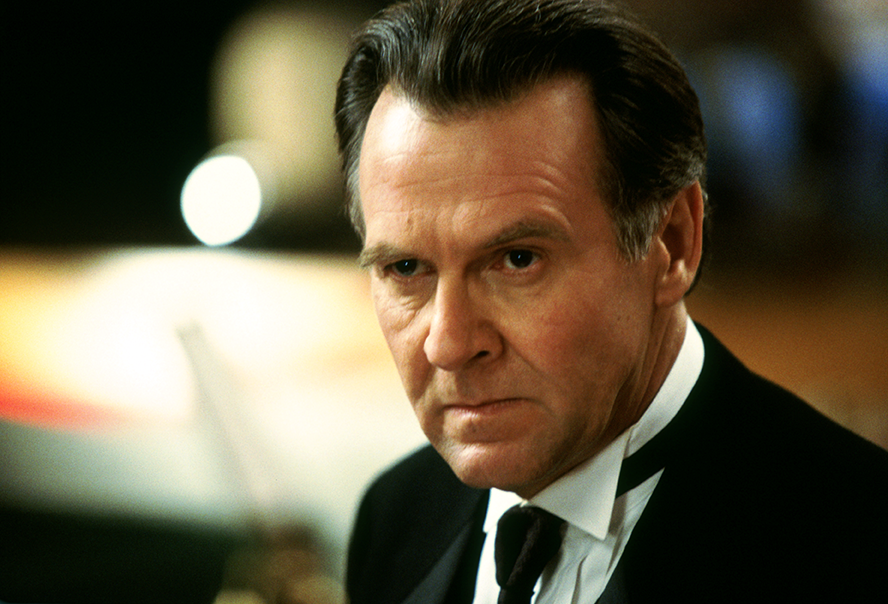 Main Henchman: Pik van Cleef (from HARD TARGET)
Second Henchman (Computer Hacker): Boris Grishenko (from GOLDENEYE)
'Good Guy' who is revealed to be a Villain: Nick Curran (from BASIC INSTINCT)
'Villain' who is revealed to be a Good Guy: MayDay (from A VIEW TO A KILL)
The Cop Who's There to Die: Richard Chance (from TO LIVE AND DIE IN L.A.)
Boss of the Cops: Captain Murphy (from the LETHAL WEAPON films)
Bonus Henchmen:
Red Grant (from FROM RUSSIA WITH LOVE)
Mad Dog (from THE RAID: REDEMPTION)
Tequila's main adversary is Juntao (although he doesn't know his true identity).  In the opening scene, Tequila tries to take down Juntao (and his group, Asian Dawn) and gets his partner killed.
In the meantime, in New York, Conklin and his partner Chance take down Grishenko, a computer hacker for hire.  Through backchannels, arranged by Conklins twin brother Curran out in L.A., Grishenko gets sent to Hong Kong.  Conklin and Chance accompany him.
At the Hong Kong airport, Conklin loses Grishenko to Hans Gruber's men who need his hacking skills.  Conklin and Chance stick around and get paired up with Tequila who 'does speak fucking English'.
At first, Tequila resents being paired with Conklin and Chance, but the team soon discovers that there's overlap in their cases: In tracking down who took Grishenko at the airport, they uncover that Gruber is actually working with Juntao for the big Nakatomi Tower job.
In an action sequence, Chance gets killed (face blown off) by Van Cleef, Gruber's main henchman.  This puts Conklin into a funk, but he is brought out of said funk by Tequila.  He lost a partner in the opening scene, so he can relate.
Following various trails, they uncover the Nakatomi Tower job.  They get inside right when the building goes into lockdown.  All of the other security forces are killed, so only Tequila and Conklin remain to stop Gruber and his team.
Hijinks and action ensues.  Tequila kills Van Cleef's brother, setting Van Cleef off in a rage.  
May Day, Juntao's main henchwoman, is there to oversee the interests of Juntao.  She gets caught up in things and gets stuck up on the roof.  When Gruber orders to blow the roof, she ends up getting caught up in the explosion but not killed.  She survives, but many of her friends are killed.  Angered, she switches sides to help Conklin and Tequila.  
There's a big bomb in the basement of Nakatomi Tower that Gruber plans on setting off to totally cover their escape.  The team tries to disarm it but it can't be stopped.  Somebody has to drive it out of the building, and May Day volunteers, telling Conklin and Tequila to 'get Gruber for me.'
She drives off, laughing, and dies when the bomb goes off.
One of the workers at Nakatomi is pregnant and has a baby.  Tequila is able to deliver the baby but, immediately afterwards, gets caught up in a firefight with Van Cleef.  He takes the baby with him and carries if for the next few action sequences to protect the child.  Eventually, he's able to give the baby back to its mother.
Conklin and Tequila are able to take out Gruber, who gets dropped out of a 30th story window.
Upon leaving the Nakatomi Tower, they encounter Thomas Griffin, a British diplomat.  Both Tequila and Conklin realize that he is actually Juntao, the leader of the Asian Dawn that Gruber was talking about in an earlier scene.  Juntao is arrested but, while trying to fight, is shot and killed by Tequila.
Suddenly, Van Cleef comes out of the tower.  It looked like he was dead earlier but it was just a ruse.  Both Conklin and Tequila gun him down together.
Grishenko gets arrested and rats out Curran to everyone.
Conklin is pissed that he was set up by his brother, Curran.  As he leaves for the airport to fly to L.A. to confront his brother, he has a nice parting moment with Tequila and waves back at him as heads off into the terminal.