I've long been a fan of Telltale Games' work, although I recognize and accept many of the criticisms used by their detractors. Yes, they have much less in common with the point and click games of old than Telltale Games would like you to think, and are much more closely related to the (much maligned) FMV games of the 90's. You're not going to end up sweating over your keyboard or controller with something from Telltale Games and you'd have to die in real life mid-way through an episode in order to not complete it. What the games lack in challenge, they more than make up for with their writing and I'd heartedly recommend reading Schwartz's take on their Game Of Throne series if you haven't already. Basically, the studio knows how to tell a good story and, on the basis of the two episodes I've played so far, I'd say they've largely succeeded again with their Batman series.
I say 'largely' in the previous paragraph, as the first episode had a few bumps. With their Batman games, Telltale Games are creating their own continuity for the character, the city, and the criminals who rise to threaten it, and the first entry into the game universe takes some time setting everything up. Some of the changes are pretty bold but I embrace them due to the story possibilities they present to both the players and the storytellers.
I'm sure there will be a few players who are aggravated by the decision to focus more on Bruce Wayne than Batman, but it's a decision that harnesses the unique format of these games to present you with obstacles that would be impossible in something like the Arkham series. Do you visit a suspicious friend as Batman or Bruce, knowing that whilst the former may be able to use violence to get them to talk, their trust in the latter may cause them to give up more information than any amount of broken fingers might elicit?
This brings me to what I like most about the game. You are allowed to be exactly the Batman you want to be. If, like me, you favor the Batman of the Nolan movies, then you can be the hero that Gotham needs right now, but that doesn't stop those potential Batflecks out there from throwing their batrangs into eyeballs and dropping gangsters from buildings.
With all of that out of the way, let's get talk about Episode 2 which has just dropped. I guess I should probably Spoiler Box this, just in case anyone reading this hasn't played the episode yet?
I really like the fact that they're playing with Batman's origins, by suggesting his father was as bad as the criminal elements Bruce now fights against. I'm sure a few people eye-rolled at Telltale Games turning the random mugging into an assassination but it worked for me.
I've seen a few reviews comment that the episode was dull but I was fully engaged for the full 90 minutes. I was particularly taken by The Penguin's redesigned outfit, probably because his mask reminded me of the plague doctor look; something I've always found to be wonderfully creepy.
Anyway, my decisions went like this: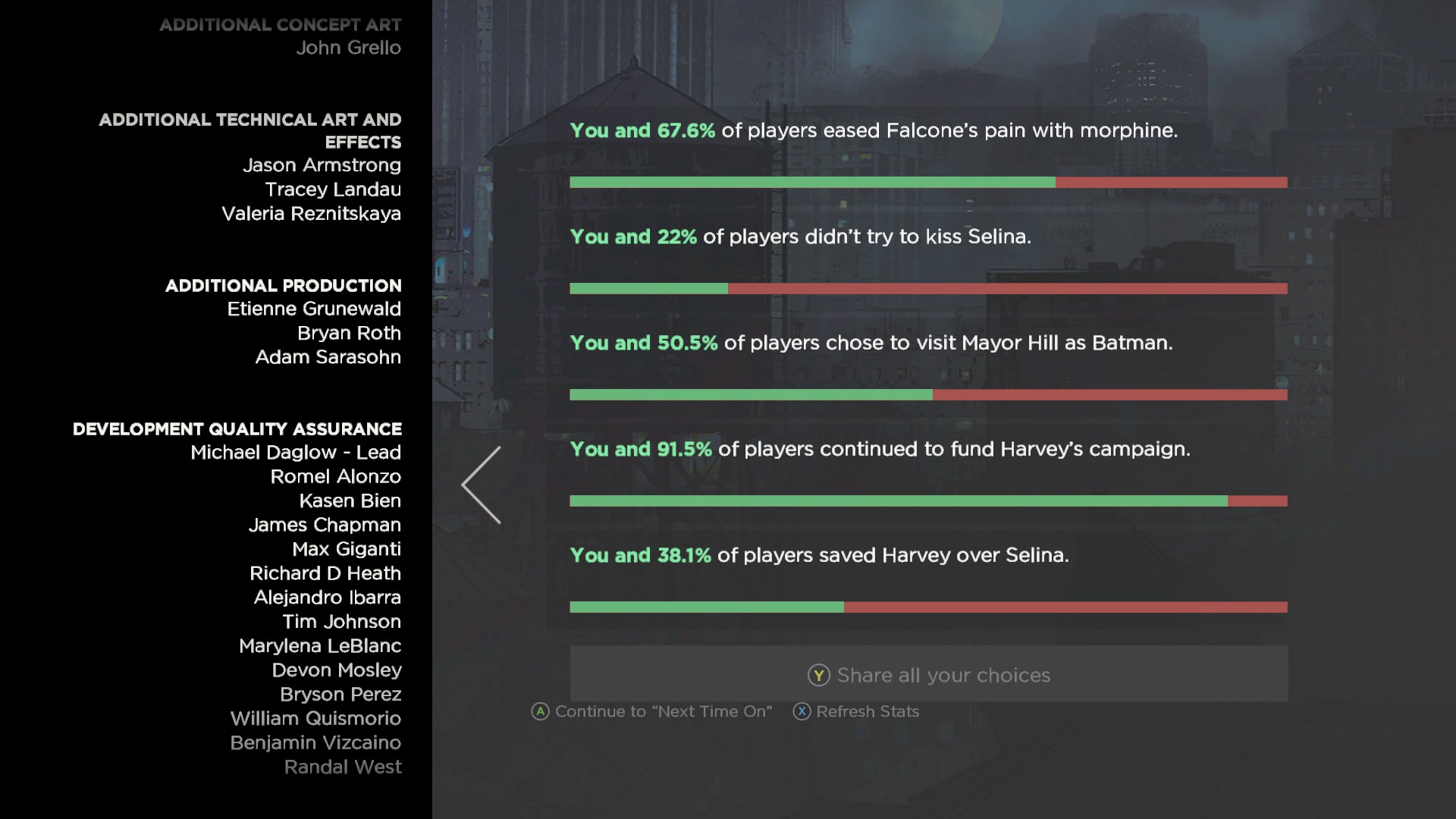 I'm putting all of my eggs in the Harvey basket; something that will undoubtedly come back to haunt me. Still, I couldn't let the big lug be beaten half to death by Oswald; especially as he's the White Knight of Gotham. Sure, it was a risk but I figured that Selina had enough training to save herself and it looks like I was right (although I'm sure she'll have a few digs at me over this).
And, no, I couldn't kiss her. Despite what she may say, she's Harvey's girl. Bros before hoes and all that.
The Joker's definitely going to turn out to be either one of the Children of Arkham or its leader, isn't he?