I've been wrestling with how to approach a thread like this ever since Indiewire released a fairly wack list article a few months ago. I didn't want us to just roll out a Top 10, but actually discuss the comedy movies that make us laugh and even the ones that don't, and try to get at the state of our collective sense of humor.
Mixed in with my post-Pulp Fiction Crime movie marathon, I've been deep diving back into the comedies of the 00's; revisiting some I hadn't seen in a while, and getting to some I'd avoided or never got around to.
People who've interacted with me a long while know I'm big on STEP BROTHERS, MACGRUBER, FREDDIE GOT FINGERED + OBSERVE  & REPORT, but a few favorites I haven't shouted out enough are NORBIT & NEXT DAY AIR.
NORBIT, even more so than the NUTTY PROFESSOR flicks, feels like Eddie's ultimate tribute to Jerry Lewis. Once again playing multiple roles, it's the sweet goofiness of the main character that's the most endearing and Jerry-like (the maximum Jerry-ness only bested by the Sandler masterpiece JACK & JILL). The fun thing about NORBIT -written by Eddie AND his brother Charlie- is how shrewdly it plays around with its abundant influences. Not just Jerry Lewis, but the Screwball sensibility of Sturges, and even tropes of the classic Western. I may be reaching, but I felt one character is riffing on TERROR IN A TEXAS TOWN! Eddie is simply amazing as the large an in charge, bullying Rasputia.
Her treatment of Norbit is so malicious and cruel, there's even a bit of psychological Horror in the mix.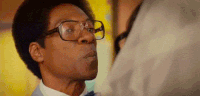 [url=https://tenor.com/view/tease-naughty-scream-yell-broke-gif-17576937][/url]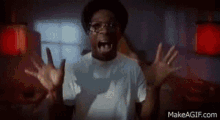 THE KLUMPS was pretty wild, but the only 21st century Eddie movie that makes me laugh this much - or at least comes close to it - is COMING 2 AMERICA.
If you always avoided this one because of its toxic reputation, give it a fair chance sometime. 
NEXT DAY AIR is another Screwball, mixing up the bloody QT crime genre with stoner comedy and Blaxploitation. It's definitely my kind of thing.
Oh, another somewhat maligned film I love - Sandler's LITTLE NICKY. To me, it's the pinnacle of the classic early Happy Madison run. 
There's a few interesting curios I discovered on this look back, but I'll touch on those later and let other people respond and have a turn.
"Got concrete rhymes, been rappin' for ten years and
Even when I'm braggin', I'm bein' sincere"
"Teenage angst has paid off well/ Now I'm bored and old"
"Drunk as hell, but no throwin' up

Half way home and my pager still blowin' up"
"I'm tired of living all alone
yeah, nobody ever calls me on the phone
But when things start getting bad
I just play my music louder"