Having had a blast with Telltale Games' Batman over the last few weeks, it was a no-brainer for me to pick this up too. Here's where I am with the first two seasons of Telltale's Walking Dead games:
I think the first is an outright classic. I think a lot of this is down to the ending because
having Lee ultimately ask Clementine to put a bullet in him was one of the saddest endings I've come across in a video game.
Therefore the second game never quite lived up to it, in my opinion. Maybe it was down to the ending I ultimately received where
Clementine and the young baby, AJ, entered Wellington without Kenny
but I doubt any ending could have lived up to the first.
Anyway, so here we are with The New Frontier. I've only played the first episode so far but I like it, and Javier seems like hes going to be an interesting character to play (even if he is saddled with a cliched annoying teenager amongst his family unit).
Here are my choices for the first episode: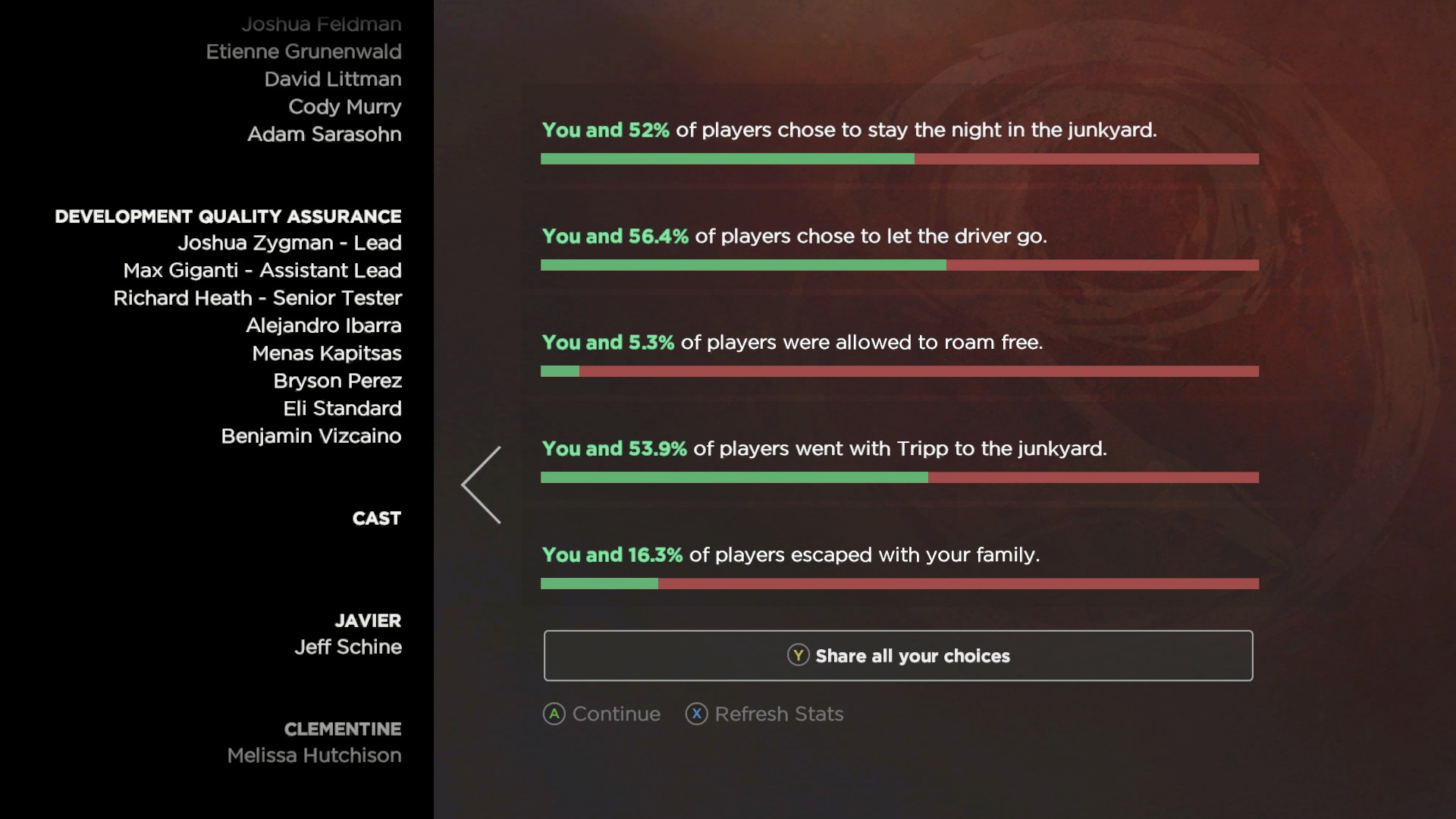 I was kind of surprised by the third choice which apparently pertains to what happened "after the shooting". I guess this means the shooting of the dealer by Clementine where I chose to tell the truth about what had happened rather than lie. Seems odd to be one of only 5% but maybe this has something to do with my responses to Tripp earlier where I promised to be straight with him?
Apparently I was also in the minority at the end where I chose to stay with Kate rather than Clementine. I guess, having already lost my family once, I didn't want to abandon them again. Maybe that'll come back to bite me. I've already pissed off Clementine a few times.
How Game Of Thronesy was that final death, by the way? I figured I wouldn't be able to keep all of my family alive but didn't see that bullet coming at all!
All in all, it seems like a solid start. I'll give episode two a go tomorrow.